They say you are what you eat, but those in the beauty industry know that you are what you put on your body. Choosing the right beauty products will
make a huge difference in your health and wellbeing. There are several things to consider when selecting the right beauty products for you, from how many chemicals are in nail varnishes to how nourishing a body wax is.
At Beautyfini, based in the heart of Canary Wharf, we only use the highest quality beauty products that will maintain the natural health of your nails and skin, as well as making you look and feel gorgeous. We care about your health and wellbeing, not just beauty, and our products reflect that. You can read more about some of the products we use in our beauty salon and why we believe they're the superior products on the market. 
How do I choose the right beauty products for me?
Before you have a beauty treatment at home or in a beauty salon take a little time to read the ingredients list on the beauty products and fi
nd the right one for you. Whether you're getting a body wax or a pedicure, what products you choose to put on your body will affect how nourished and healthy your body is. 
Some ingredients in nail varnishes can be carcinogenic or cause allergic reactions. Here are just a few ingredients to consider when searching for the right manicure or pedicure for you. 
Ingredients to avoid in nail products: 
Phthalates (incl. Dibutyl phthalate (DBP), Diethylhexyl Phthalate (DEHP) are used as solvents to give nail polish their shiny and plastic-like consistency and are proven to be carcinogenic. 

Toluene (also Methylbenzene) helps nail varnish to form a smooth finish, although it has been proven to be a powerful neurotoxin when inhaled. 

Xylene is used to thin nail polish although it has been proven to be an allergen which can cause skin or eye irritation. 

Formaldehyde is used as a preservative in nail polish, is a proven carcinogen and can cause respiratory symptoms and allergic reactions.
Selecting the right skin care product depends on your skin type and sensitivity. Before you enter the salon, take a bit of time to consider the best options for you.
How do I choose the right skin care product for me?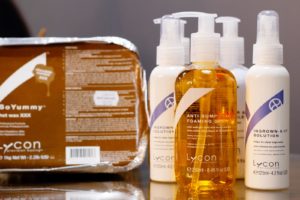 Know your skin type. This can be affected by the weather or your hormones. Understanding whether you have oily skin or dry skin can enhance the type of treatment you opt for. 

Research the brand. Look for reviews, look for the quality of beauty salons and how premium their products are, and look for what the experts are saying. Be kind to yourself before you dive in!

Research the ingredients and check there are no nasties in the skincare products!
Why is it important to choose high-quality beauty products? 
There are so many sub-par or copy-cat beauty products and nail varnishes on the market that are not properly tested for dangerous ingredients or hypo-allergenic, which is why we at Beautyfini don't invest in them. Instead, we choose beauty products such as SNS nail polish because the powder formula contains nail-fortifying calcium and other minerals to keep your nails healthy. Don't damage your skin! By selecting products that have pure ingredients that will nourish your skin, and not nasty chemicals, you are creating real not just artificial beauty. And we all know that real beauty is longer-lasting!
Wherever you decide to have your beauty treatments, make sure you select somewhere that avoids cheap copy-cat beauty products that can damage your skin and nails. At Beautyfini we believe that you deserve to feel and look as gorgeous as you are.