Nail treatments at Beautyfini
From manicures to pedicures, our talented therapists based at Beautifini in the heart of London will give you gorgeous nails that make you feel as special as you are.
Come in for a quick lunch break pamper or post-work treat. We believe in healthy, beautiful nails and specialise exclusively in CND Shellac, OPI gel nails, SNS dipping nails, Acrylic nails and ombre nails.
Feel fabulous with a luxury nail manicure at Beautyfini in the heart of Canary Wharf. With over 200 high gloss, long-lasting nail polish colours to choose from, our talented beauty therapists will ensure you have the perfect finishing touch to any outfit.
What's included in our luxury manicure treatments:
Our beauty therapists will file your nails into your ideal shape, whether you like short and sweet, square, almond or oval. They will then treat and condition your cuticles, followed by a relaxing hand and arm massage. The nail polish of your choice is carefully applied along with a glossy topcoat to protect the manicure.
Nail file
Cuticle condition
Hand and arm massage with OPI Avojuice moisturising cream
Nail polish of your choice with over 200 colours to choose from: can include CND Shellac, gel, SNS nail dipping, Acrylic or ombre nails.
Protective topcoat
Allow around 40 minutes for your treatment depending on the type of nail polish used.
Our team work hard for your perfect pedicure
A luxury pedicure is a perfect treatment to experience a little bit of relaxation and to keep your feet flawlessly healthy. Our beauty therapists submerge your feet in hot, soapy water to soften the skin and cuticles. Then they remove the dead skin cells, moisturise your skin, shape your nails and finish with a pop of your favourite nail polish.
A non-whirlpool foot spa to soften the skin
Removal of all dead skin cells
Foot massage and moisturise
Nail file
Nail polish of your choice with over 200 colours to choose from: can include CND Shellac, gel, SNS nail dipping, Acrylic or ombre nails.
Protective topcoat
Allow around 40 minutes for your treatment depending on the type of nail polish used.
We have the highest standards of hygiene at Beautyfini
Beautyfini is one of the only beauty salons in London that uses disposable liners for the foot spa soaking process during a pedicure. We guarantee that you are not sharing with anyone else's feet! Throne or jet chair foot spas often used at other beauty salons can become contaminated with fungus or bacteria, which is why we use disposable liners to sanitise our foot spa after each use. We also have a large collection of beauty therapy tools so we can thoroughly disinfect and sanitize each tool after every use.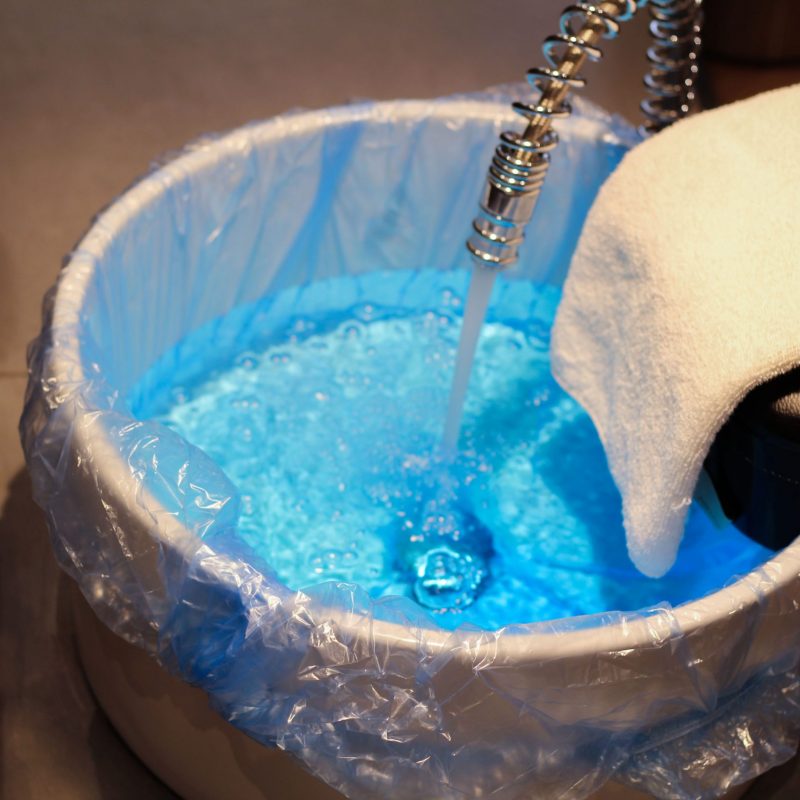 Don't Avoid a Pedicure. Just choose the correct salon.
We stock over 100+ CND Shellac colours
CND Shellac nail polish is a hybrid of nail polish and gel which gives you a pristine, high gloss finish and is chip-free for up to 14 days. It's hypoallergenic and free from formaldehyde, toluene and DBP (Dibutyl Phthalate). The Shellac nail polish dried in a UV lamp meaning there's zero drying time, perfect for the London girl on the go.
Applied like regular nail polish to your natural nails, each layer is cured under a LED light with zero drying time. It uses 2 to 3 coats of colour and a special base and topcoat which helps to keep your natural nails strong. A gel manicure or pedicure will last around 14 days and can be removed by soaking in acetone at the Beautyfini nail salon.
We guarantee for all nail treatment up to 7 days
Beautiful long lasting extension nail
Acrylic nails allow you to add natural-looking extensions and overlays to your nails. A plastic tip is applied to the end and blended into the natural nail before a layer of polish is smoothed over the top to strengthen the extension. The formula hardens in 20-30 seconds and continues to cure for 15 minutes after. Acrylics are a great option for strong, longer nails lasting for up to 14 days. You can extend the life of your acrylic nail manicure by having the base filled in every two weeks or so at Beautyfini.
A note about MMA acrylic nails:
At Beautyfini we use EMA (Ethyl Methacrylate) Acrylic powders as these are the healthiest option to extend and protect your natural nails. Salons that offer acrylic nails at cheap prices are often using MMA (Methyl Methacrylate) which is used in the dental industry. MMA bonds to your nails too harshly and it can tear the nail from the nail bed.
Ombré nails (just like ombré hair) are a type of manicure in which a colour gradient is created. A light colour on the top of the nail gradually blends into a darker colour toward the tip. Getting the perfect ombré effect can take time and practice, but there's a lot of room for originality to make your ombré effect unique. Ombre nails can be done with an Acrylic powder or SNS nail dipping system. Tell our talented beauty therapists about your dream ombre nails!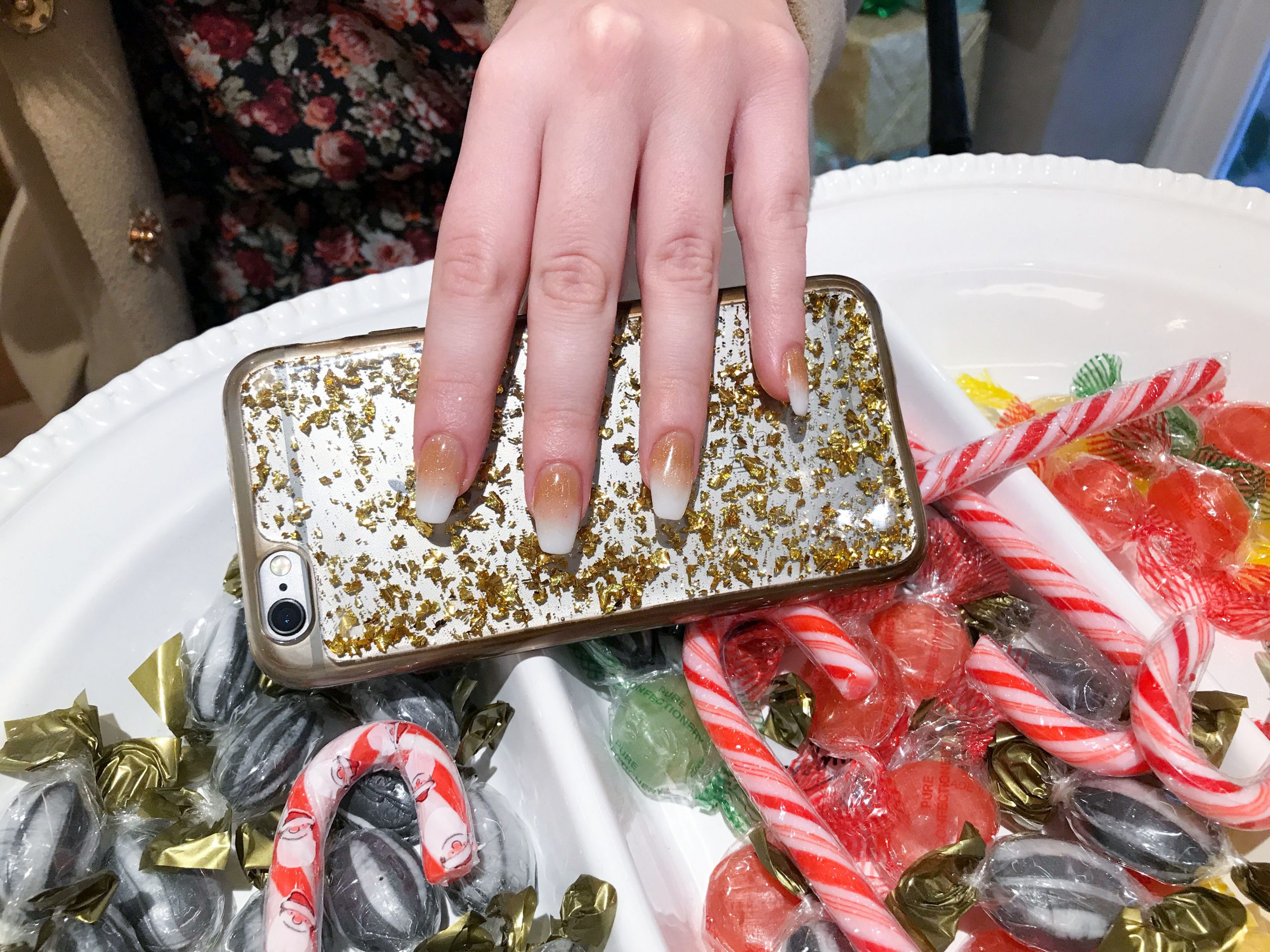 Never feel boring with ombre nails.
SNS is a nail dipping system that uses a brush-on gel base which is dipped in a powder. The effect is truly spectacular while adding strength to your natural nail. The powder consists of organically-processed chemicals Benzoyl Peroxide, Titanium Dioxide, Acrylic Ester Polymer. An SNS nail dipping manicure will last for 14 days and longer if you book for a retouching treatment at Beautyfini. 
Available over 400+ colour including French manicure.