What's the beauty treatment you're most looking forward to booking in now lockdown has ended? I hear you – nails! Manicures, pedicures, you have to get those nails looking on point, and at-home manicures just don't cut it any more. 
From O.P.I gel nail polish to CND Shellac, how do you know what the right nail product is for you? Nails are a form of expression; they are a way to show your personality and let your passions shine through. Whether you're into a classical red manicure or vibrant SNS nail dipping, our talented nail therapists at Beautyfini can make nails look spectacular. 
So, you may be asking yourself what nail product you should choose for your next manicure or pedicure? Pop in and chat to our nail art specialists at Beautyfini HQ in Canary Wharf, London, or read the below guide to how to choose the right nail product. 
What's the right nail product for me?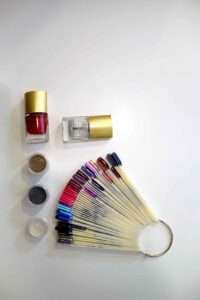 Firstly, you might be wondering what the difference is between gel polish and Shellac polish. Well, it's not that shocking. A gel manicure uses a semi-permanent gel, and a Shellac manicure uses a semi-permanent polish. So which one should you choose?
O.P.I gel nail polish 
If you want long-lasting nail colour that coats your natural nails, O.P.I gel nail polish is the one for you. We add a base coat, a lick of colour and a topcoat, and set the gel under a special UV light. It's best known for its beautiful shine and long-lasting, chip-resistant colour, and can give you gorgeous nails for up to three weeks. O.P.I gel nail polish also has one of the largest collections of colours, perfect for a simple manicure or lick of colour to brighten your day. 
Only downside? Gel nails don't like hot water, so avoid steamy showers or washing-up. Good news – not a bad excuse to get out of cleaning up! They'll also need a good soak to get them off. We wouldn't recommend doing this at home, we can help you at Beautyfini, Canary Wharf. 
CND Shellac nail polish 
Shellac is a hybrid of nail treatments in that it's half regular nail polish and half gel. It's set under a UV lamp just like a gel polish. It's a thinner polish than gel and is easier to remove than a gel manicure because you don't need to soak it, so you could potentially remove it at home if you can't make it to a nail salon. Although Shellac offers an array of beautiful colours, you won't find as many colour options as O.P.I gel polish.  
And for the more creative of us, there's…
Acrylic nails
Acrylic nails allow you to add natural-looking extensions and overlays to your natural nails. A plastic tip is applied to the end and blended into the natural nail. We then smooth a layer of polish over the top to strengthen the extension. The formula hardens in 20-30 seconds and continues to cure for 15 minutes after. Acrylics are a good option if you want to lengthen the appearance of your nails while maintaining their strength. You can extend the life of your acrylic nail manicure by having the base filled in every two weeks or so at Beautyfini. 
SNS dipping nail manicure
SNS is a nail dipping system that uses a brush-on gel base which is dipped in a powder. The effect is spectacular and also adds strength to your natural nail. The powder consists of organically-processed chemicals Benzoyl Peroxide, Titanium Dioxide, Acrylic Ester Polymer. If you're looking for a nail treatment that will truly let your personality shine, this is the one. An SNS nail dipping manicure will last for 14 days and longer if you book for a retouching treatment at Beautyfini! 
Our beauty salon in Canary Wharf only uses high-quality beauty products that maintain the health of your nails and skin. Find out more about what beauty products we use at the Beautyfini salon and why here.
For top tips on how to keep your nails looking their best and enhance the life of your manicure or pedicure check out our nail treatment aftercare advice.